Climate solutions for your business
Get ready for the future with

Manifest Climate
Our flexible plans give you everything you need to build your climate strategy.
Advanced software to build climate confidence
Manifest Climate is committed to offering best in class and tailored tools, alongside real-time support to provide signals for action and help organizations navigate climate risks and opportunities.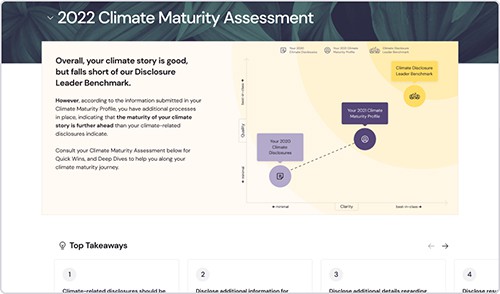 Gap analysis of current business processes to TCFD recommendations
Actionable insights and real examples of best-in-class disclosures across the 11 TCFD recommendations
Identify and organize all climate-related data and information, including around governance, business operations, and specific climate actions and metrics
TCFD Index Guide - handy reference guide for where to find all TCFD-related disclosures across all public disclosures

Climate-related news from 30,000 trusted global news outlets distilled into bite size summaries for easy shareability
Manifest Climate's independent insight on emerging issues, trends, best practice standards and global climate commitments
Articles and monthly news roundups include a summary, insight from Manifest Climate's experts and links to third-party news articles for further reading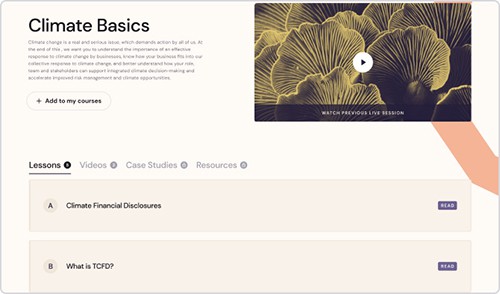 Learning and Resource Hub
Build competency, address knowledge gaps and improve decision-making through climate education and training
On-demand content library features original Manifest Climate content and curated third party sources
Learning units include Climate Basics and TCFD 101
1-year subscription to Manifest Climate platform.
Includes:
Pick 1 Learn course (10 seats)
Quarterly business review with Manifest Climate
1-year subscription to Manifest Climate platform.
Includes:
Pick 2 Learn course (25 seats)
Monthly access to climate
strategist
1-year subscription to Manifest Climate platform.
Includes:
3 Learn course (50 seats)
Weekly access to climate
strategist

Climate Training
Additional training modules

Powerful Tools

Access to Experts
Additional climate strategist access

Peer Trackers
Custom peer tracking
Track additional sectors
Monthly presentations

Disclosure Assessment
Quick peer analysis
Portfolio analysis
TCFD report drafting Review
Join our growing community today
Some of the leading corporations that partner with Manfiest Climate


Want to see Manifest Climate in action?